With Valentine's Day around the corner and restaurants closed, why not try your hand in the kitchen and impress your Valentine whipping up these super-simple Chocolate Truffles….with Avocado! That's right, these treats may taste decadent but we've packed it full of nutrients too, including one serving of our Protein Breakfast Boost for an added 12g of protein, so you can enjoy them guilt-free. This simple recipe is very versatile so feel free to tweak the fillings and toppings to whatever you prefer or what you have in the cupboard. Whether it's Valentine's, Galentine's or just a bit of a treat for yourself, we know you'll simply love this recipe.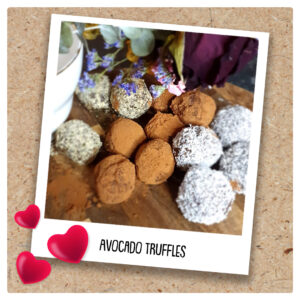 Ingredients  (Approx. 14 Truffles)
1 ripe Avocado
100g of 70% Dark Chocolate
2 tbsp of Good4U Protein Breakfast Boost
1 tsp Vanilla Extract
3 tsp Honey
2 tsp Cacao Powder 
Desiccated Coconut (optional)
Freeze Dried Fruit Powder (optional) 
Method
Take one peeled, ripe avocado and mash with a fork or blitz in a food processor until smooth.
Add your honey, vanilla extract and cocoa powder to the avocado.
Melt 100g of of dark chocolate and fold into the avocado mixture.
Once combined, chill your mixture in the fridge for at least 2 hours before rolling.
Roll into balls and coat in milled seed, cacao powder, desiccated coconut, freeze dried fruit powders.
Enjoy!