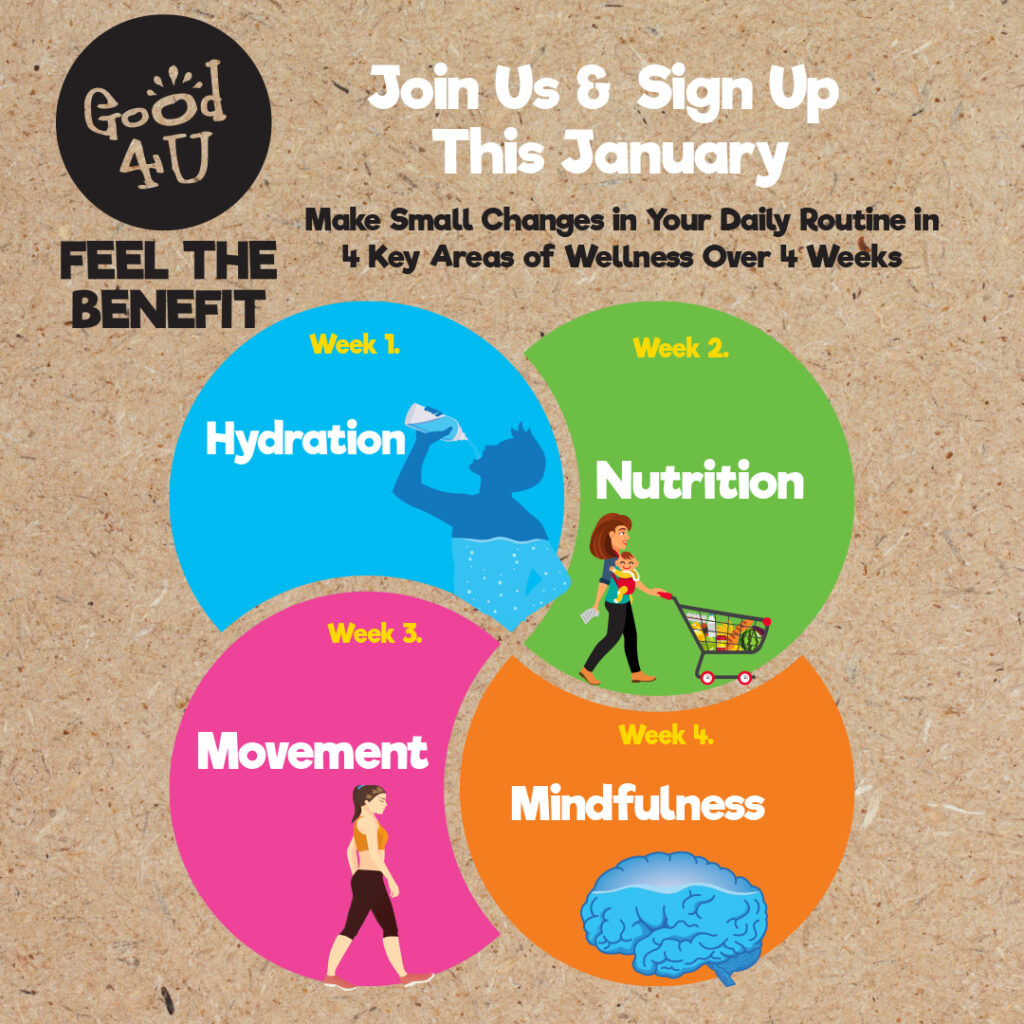 For each week of January, the Good4U team are challenging themselves and you to adopt one new simple, healthy habit designed to improve our overall wellbeing in mind, body and soul. The first challenge sounds simple but is often overlooked- hydration! We challenge you to drink at least two litres of water every day, plus we'll look at how much water we actually need, how and why this can change from person to person and tips to help you with water consumption. 
Next, we invite you to take a deeper look at nutrition with the "30 Plant Challenge", encouraging you to get 30 plants a week into your diet. This is great for micro-flora, mood, digestion, weight management and much more. If this sounds like a lot, don't worry- we'll be posting recipes, shopping lists, meal plans and advice to help you find your feet. 
For week 3 of the challenge, our hydrated and nourish bodies are going on the move! We challenge you to get 10,000 steps a day in if you can or 30 minutes of activity each day. Whether you enjoy walking and hiking, sea swim, home HIIT workouts, find something you enjoy doing. We'll be looking at how movement affects the body, how to optimise your hydration and nutrition for increased movement as well and workouts you can do from home. 
Lastly, after our bodies feel great from our weeks of hydration, nutrition and movement, we'll be looking into the mind, which is just as important to keep healthy for overall wellbeing. There are many simple, convenient exercises that can help our mental health, from breathing exercises, meditation techniques to positive affirmations and journaling to help organise our thoughts.
These four simple habits are simple to adopt and could greatly help your body, mind and soul. Let's kick January off with great habits and start as we mean to go on for a happy, healthy and safe 2021. 
Follow us on social media and sign up to our newsletter for all the resources, recipes, videos and information you'll need to do the 4×4 challenge, and don't be a stranger, we want to hear your own tips, questions and advice to help spur others on too! 
Sign Up For the Good4U 4×4 Challenge
[contact-form-7 404 "Not Found"]